Recently at Jisc infoNet, we've been working on an update to the events section of the website. This follows on from our revamps to the topics section as well as the publication of new resources and tools.
Like many sections of the website, updating events required the team to think about our offering, the content and promotional aspects. We kicked off with an events taskforce meeting to bring together key members of the team to discuss what we wanted to achieve and where the focus should be. This wasn't just about the website, but about delivery of events and about maximising our offer through Regional Support Centres (RSCs).
As you might have read on our Spotlight blog, we've taken a new approach to workshops that stems from our journey into participatory techniques. It's now fully embedded within our culture and a great way of making workshops interactive and flexible. We wanted to find a way to reflect this within the website and so we looked at creating a video to help promote the new offer.
We've created lots of videos before – check out our YouTube channel – but this time, rather than being related to a particular resource, we needed it to be promotional. We needed something that showcased the techniques and showed how engaging the workshops are.
Rich pictures is something we use often in the workshops and are a great way of visualising a problem and coming up with solutions. So a few of us started drawing some rich pictures to answer the question of "what makes a participative workshop?"
After generating and drawing some great ideas, we put them together into one giant rich picture. We wanted the picture to tell the story, so we set up the camera and re-created it whilst recording. Speeded up to 8x normal speed, we had a fantastic timelapse effect. Interspersed with photographs from recent workshops, we think it really shows the breadth of our offering to the sector in a clear and visual way. You can see our video embedded below or on YouTube.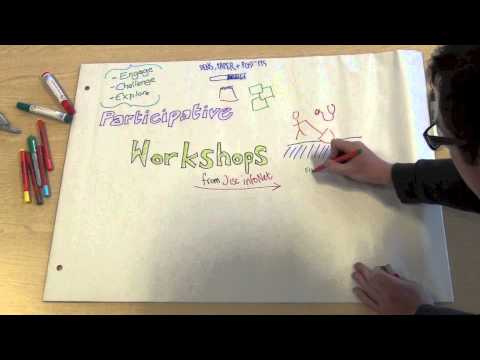 The process helped the team to clarify our workshop offer and generated a range of key messages that we could then use to develop the website – giving the user a much better idea of what they could expect.
Over the last 18 months, we've been engaging with our customers to help solve their problems, and facilitated workshops have really helped in exploring and finding solutions. We think that organisations reap great benefits from these types of events, so if you want to find out more take a look at the website, or get in touch via email or through Twitter.